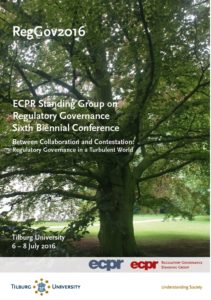 The Standing Group on Regulatory Governance of the European Consortium for Political Research (ECPR) will hold its Sixth Biennial Conference, organized by Tilburg University, the Netherlands, from Wednesday 6 July to Friday 8 July 2016.
The Biennial Conference is the leading interdisciplinary conference on regulation and regulatory governance held in Europe, attracting researchers from all over the globe working in a wide range of disciplines including political science, law, accounting, business, sociology, economics, international relations, anthropology, public administration, and other related disciplines.
For more information, visit the conference website. Please note that online registration has closed, but same-day registration at the conference is still possible. (Conference fee to be paid with credit card.) The key note address can be attended without registration.