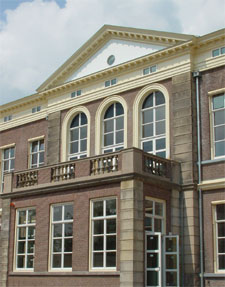 Friday, 13 April 2018, 13h30-17h00
Leiden University, Steenschuur 25
Programme (pdf) | Register here
On Friday, 13 April 2018, the Dutch Association for European Law (NVER) and the Dutch Association of Constitutional Law (Staatsrechtkring) will host a joint symposium on the EU Rule of Law Framework and judicial reforms in the member states. Distinguished speakers from academia, the judiciary and politics will address the state of play within the EU framework, the current tensions in Poland and the situation in other member states, and discuss fundamental questions and possible solutions.
With contributions by Stanislaw Biernat (Professor of European Law in Cracow and former Vice-President of the Polish constitutional court), Geert Cortens (former President of the Supreme Court of the Netherlands), Leonard Besselink (Professor of Constitutional Law, University of Amsterdam), Sophie In 't Veld (Member of the European Parliament), Paul Bovend'Eert (Professor of Constitutional Law, Radboud University) and Tamara Trotman (Foundation 'Judges for Judges' and Justice in the Court of Appeal of The Hague).
Download the programme (pdf) here. Participation is free of charge, but registration is required. To register, send an e-mail to nver@nver.nl.