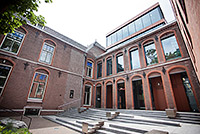 Monday September 25th, 2017, 13:30-17:00
Schouwburgstraat 2, The Hague
(The Hague Campus, Leiden University), room A2.01
There is a global trend towards including a preamble in new constitutions. The main purpose of this symposium is to reflect on the functions of constitutional preambles. In the first panel, Wim Voermans, Maarten Stremler and Paul Cliteur will present their book Constitutional Preambles: A Comparative Analysis (Edward Elgar 2017). In the second panel, three international experts will discuss the process of drafting a preamble as well as its role in law and politics. The third panel deals with the recent proposal to add a quasi-preamble (a general provision) to the Dutch Constitution, focussing on its potential added value.
Download the full programme here.
To register, please send an email to Maarten Stremler: <m.stremler@tilburguniversity.edu>.